Scroll down to view the latest clinic updates!

DR. ODIAMBO AND REMEDY UGANDA
Remedy Uganda is a private not for profit health clinic that was established to strengthen existing health service delivery with the mission "To provide access to quality, safe and continued professional health care services and information for the urban, peri-urban and rural communities". It was founded in 2020 and now serves a catchment area of about 20,000 people with four outreach community centers. 
Ultrasound Machine
Feb 2023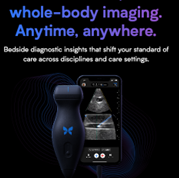 We are very excited to share that February 2023 Uganda Remedy will receive a new portable ultrasound machine! There are no other ultrasounds at any of the clinics or hospitals in this region (Gulu).  This will be a huge asset to Dr. Odiambo's clinic bringing in many people from the surrounding area.   The ultrasound device does whole body imaging, including Cardiac, MSK, Lungs, and Bladder.  It will also benefit some of his maternity patients.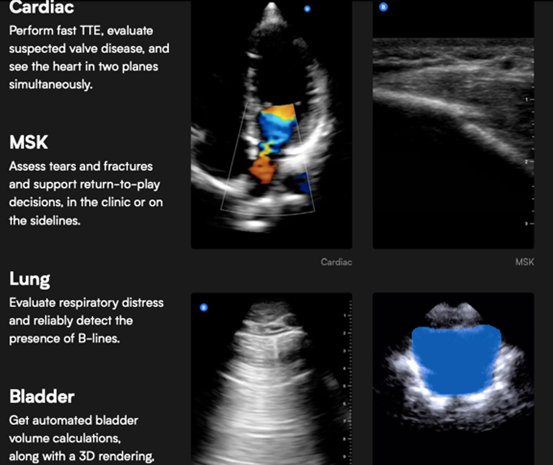 WE ARE LOOKING FOR A COMPATIBLE IPAD THAT WILL MORE CLEARLY SHOW THE IMAGES. IT REQUIRES ONE OF THE FOLLOWING: 
iPad Pro (12.9-inch) (1st and 2nd generation)

iPad Pro (10.5-inch)

iPad Pro (9.7-inch)

iPad (5th*, 6th, 7th, 8th, and 9th generation)

iPad Air (3rd generation)

iPad mini 5th generation
IF YOU KNOW ANYONE WHO CAN DONATE A NEW OR USED ONE CONTACT US THROUGH THE WEBSITE
GROUNDBREAKING FOR NEW CLINIC!

September 2022
Dr. Odiambo has started clinics in other locations, but after upgrading the rented buildings, adding electricity at the clinic's expense, unscrupulous landlords would make unreasonable demands or start charging exorbitant rates forcing them to locate elsewhere.

Phillip recognized he needed a place that he actually owned so this would not continue to happen.  Through his father's generosity, he was able to get clear title to a piece of property in a good location where the  surrounding villages lacked close medical care. This was a parcel of the land owned by his father, purchased many years ago with the money his dad earned serving in the Uganda Army. His father has also donated land for a village school and a church.

The clinic is estimated to cost

$25,000. 

Two generous donors have provided

the initial $10,000. Remedy Uganda is applying for a grant from another non-profit to help cover the other expenses. The villagers are excited to have a good facility in this region, home to approximately 20,000 people.





A DEEP AQUIFER water well will also be installed at the clinic, benefiting both the clinic and villagers. The price per well is $4,000, which is $10,000 less than most drilling companies charge.  $2,500 has already been donated towards this well. It 

will provide clean water for the clinic AND the added benefit of selling

 water shares (a common practice) to the villagers.  Water shares will help the clinic meet some of their basic operating expenses.  Not only will everyone benefit from improved health, the people will lose less work and school time from the many water-borne illnesses.  Neighboring village girls will be able to easily fetch water in a much safer environment and will more likely be able to attend school.  The entire community will become more self-sustaining and  closer to walking out of their poverty.  





Your donation (large or small)  to this medical project will be greatly appreciated.  
On September 23, the clinic had a groundbreaking ceremony.  Dr. Odiambo shared that when the dedication of the land was taking place it started to drizzle.  It lasted through the dedicatory prayer and then ended.  The people were amazed, and they all considered this a positive affirmation of the work that is beginning to take place.
We are very pleased with the progress that has been made.  However, a tractor trailer rig hit the car Dr. Odiambo was putting his family into, throwing him under the car and causing some very serious injuries.  This has caused a delay in construction by several weeks.  
CONSTRUCTION OF THE NEW CLINIC IS SLOWLY MOVING ALONG.  DR. ODIAMBO IS WORKING IN A RENTED CLINIC ABOUT AN HOUR AWAY WHILE HIS CLINIC IS BEING FINISHED.  TO ASSURE THERE IS NO SQUANDERING RESOURCES OR DISHONESTY, HE OR A FAMILY MEMBER IS PRESENT WHENEVER WORKERS ARE ON THE JOB. DR. ODIAMBO  IS VERY FRUGAL, AND CONSIDERS DONATIONS TOWARD THE CLINIC AS SACRED MONEY TO BE CAREFULLY USED.
Although Dr. Odiambo's  new clinic was not complete, he was still  able to coordinate extensive dental and eyeglass service for villagers.  This was under the direction of local dentists and optometrists as well as the U.S. volunteer dentists.
One of Dr. Odiambo's passions is to help reduce the mortality rate of delivering moms and their newborns.  He does extensive training and is trying to get neonatal equipment and more beds for his clinic.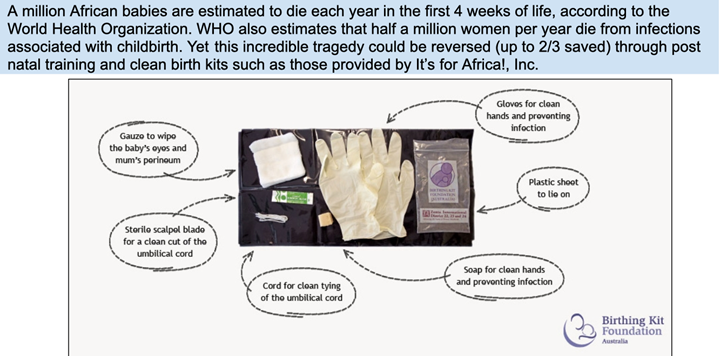 It's for Africa has provided Dr. Odiambo with hundreds of these birth kits for those in neighboring villages who may not make it to his clinic.  One kit can literally save two lives!